echo $newstitle;?>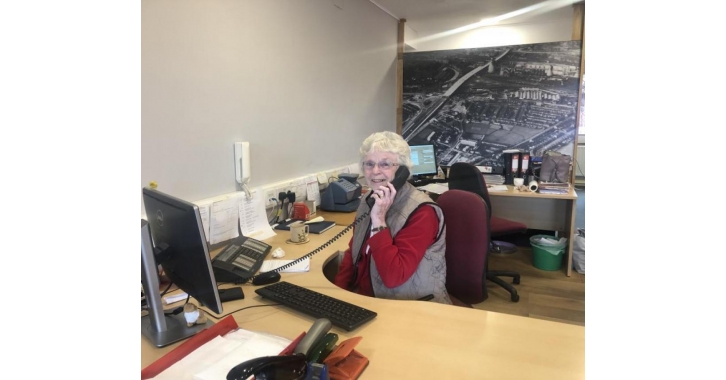 Not only is Fernie Greaves Trebbi's oldest company, founded in 1850, it also boasts Trebbi's oldest employee, the remarkable Jean Thompson. We recently sat down with the 82-year old receptionist for a chat about her role at Fernie Greaves, why she loves working and her passion for crown green bowling!
How long have you been working at Fernie Greaves?
I'll have been working at Fernie Greaves for 23 years in July. I'm not the longest serving employee though, that honour falls to Tracy or Michelle who have both worked at Fernie Greaves for around 30 years!
Where else have you worked?
I've had an interesting career, with lots of varied roles. When I left school, I worked for Union Carbide on the switchboard. I then went to night school and was a shorthand-typist, before working in the drawing office, purchasing department and then sales in the welding department, all still at Union Carbide. A welding department move to America meant I went into office services, until I was made redundant aged 47 after 32 years' service. I then got a job in a chemical company in charge of distribution where I stayed for 10 years before once again, a company move prompted me to start temping. I eventually came to work for Fernie Greaves for 3 days… and 23 years later I'm still here!
What is your typical working day?
I work two days a week, Monday and Friday, 9-5 but I usually come in for 8 o'clock, open up the office, make a cup of tea, check what's happened the three days I'm not here and then open the switchboard at 9am. Then it's just a normal day answering phone calls, replying to emails and welcoming visitors!
What do you enjoy most about your role and working at Fernie Greaves?
The people. They're a really nice bunch of people and we have a good laugh. I just like to come to work. Everywhere I've worked I've been lucky enough to work for good companies with good people. People keep saying to me don't you think its time to retire and I say no, I enjoy it too much!
What is your proudest moment at Fernie Greaves?
I came here originally for 3 days and I got on so well with my colleagues that they asked if the company would take me on and they did. I was 58 at the time, so I felt like that was a big thing… that is probably my proudest moment.
What is one piece of advice you would tell people just starting their career?
Always what my Dad told me – whatever you do, go to work, be on time, don't clock off before 5 and never be late, unless you've got a very good excuse.
What do you enjoy outside of work?
I've got lots of hobbies and keep myself very busy! I've been a keen cook since 11 when I went to junior night school. At 15 I went to night school again and amongst others learnt embroidery, dress making and knitting. I used to make all my own clothes, I even made my own wedding dress. For a long time, I also iced wedding and birthday cakes. I go to the gym two days a week and I've been crown green bowling for 30 years. I enter competitions and even reached the merits final a few years ago. That takes up a lot of my time, but I love it!
Back to News articles